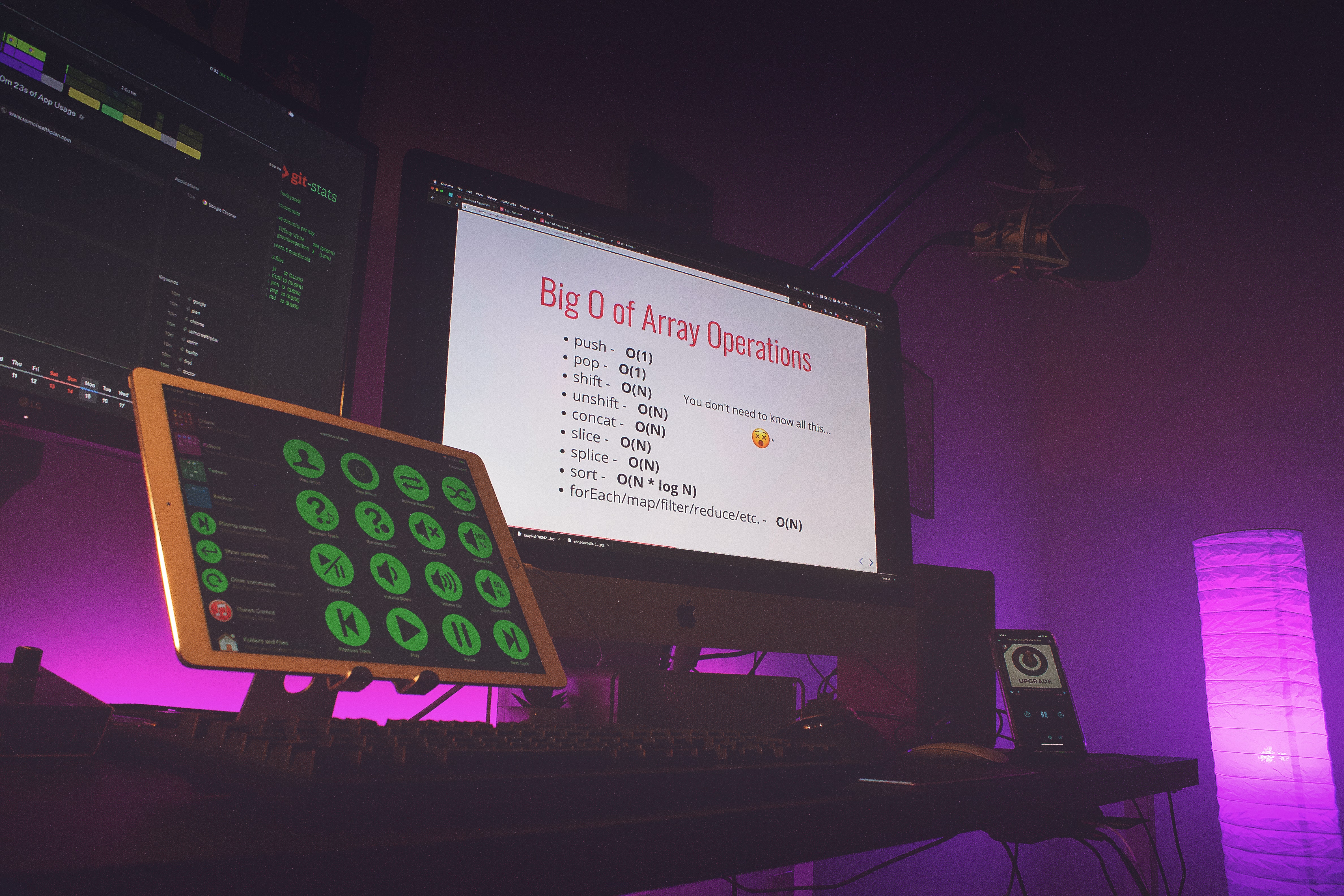 Seems that a lot of developers are creating these /uses pages after discovering Wes Bos's /uses page.
My favorite of these happens to be from Jon Suh. His /uses page includes a photo, which is what I did here.
While I was interning, I had enough money to make my desk setup look sick as Wes and Scott would say. So some of the stuff below will change.
---
These items use affiliate links. You can buy from them, or not. Whatever works best for you.
---
Gear
Let's start with my gear.
As you can see I finally moved into my new place. My cable management game is all off but it is what it is2.
Software
VS Code

It does everything I need it to do. Atom was nice and had a lot of features but goddamn it's hella slow. So I went back to VS Code 3 and couldn't be happier.

iTerm2

Back to iTerm. Multiple panels ftw.

Oh My Zsh

I will never use a terminal without this installed.

Mac CLI

Control pretty much every function your Mac can do, plus updating all packages across package managers, ssh, MySQL etc, right from your command line. Excellent tool.

Sketch for UI design
Boom 3D

This makes everything sound amazing.

Timing 2

This is how I can find out how much time I spend on Twitter.

Xcode
Chrome
Transmit 5 for Mac

There are cheaper, free, FTP clients out there but my first text editor was Coda and I liked it so much I bought Panic's FTP client. It looks good and functions quite well. I moved on from Coda when I became "serious".

nvAlt

Brett Terpstra made a fork of Notational Velocity's plain text note app and I use it for quick notes.

PopClip

Using PopClip is a lifesaver. When it doesn't work I am lost.

Alfred

Workflows make this my favorite app. I can't live without it. You can find my workflows here. I have way too many, I admit.

Text Expander
Affinity Designer

I am trying to learn how to use this better.

Affinity Photo

Definitely replaces Adobe CC for me.

Amphetamine to keep my Mac awake
Spark for email that isn't Gmail
Shell Runner
BetterSnapTool is my choice for window snapping.
Expressions to test regular expressions
Franz. This is a chat aggregator. Open source and wayyyyyy better looking than Rambox.
Fantastical 2 for scheduling
Sip for Mac for a color picker
I Use a lot of software, I admit
But I use ALL OF IT.
So this is my setup and what I am currently using. You can show me your dev setup on Twitter.